Competition: What's your favorite Redgate tool?
Enter now.
Bugs in the 'DELETE without WHERE clause' warning

GavinAshford
Posts: 2
New member
Hi, I'm pretty sure these are bugs but I wasn't 100% sure how they should reported on the forum, so apologies if this isn't suitable...
First things first, I'm currently using SQL Prompt 9.5.6.10002 on SSMS v18.0 (15.0.18118.0) against a SQL 2016 server (13.0.5264.1)
The first issue I have is that there doesn't seem to be a warning generated when declaring and then deleting from user-defined table type variables.
For example I have a user table type called
BrandList
and this code does not cause the warning prompt to appear.
DELETE FROM
@brandList
My second issue feels like a weird edge case.
It seems to be due to where the query text selection is when selecting and executing a sub-section of script, specifically when the selected DELETE query follows after a previous query that is indented in some way.
The warning prompt does appear but the name of the object being referenced in the prompt gets its first 1 or 2 characters truncated.
This is probably best shown with a set of screenshots...
I am using a simple test table for these: CREATE TABLE dbo.test (ID INT)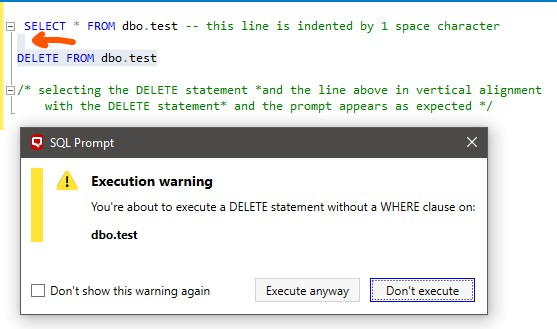 Finally, however, when combining these two issues it actually causes the first issue (not prompting on user-defined table type variables) to then 
begin
warning about the DELETE without WHERE, but
only
when selecting in-line with the previous statement.
Tagged: